Office Greenery: The Best Plants For Offices With No Sun
Ah, the challenge of putting plants in an office with no sun…
Though things are slowly (and thankfully!) beginning to change in the way we design our offices, the truth of the matter is that many of us work in spaces with limited natural light. Even offices that boast big, south-facing windows may be too large for many of its employees to actually enjoy them, and just six to eight feet away from a light source can start to qualify as low light when it comes to indoor plants. Nonetheless, that doesn't mean you can't have plants in an office with low light. Even if you have virtually no sun, you can still enjoy the many benefits of indoor plants, and guess what? Some of them will even thrive! Read on to learn more about the very best low-light plants for an office with no sun, and brighten up your office with a bit of greenery stat!
The Snake Plant
Voted by Nasa as one of the best air-purifying plants, the Snake Plant is also one of the hardiest indoor plants around and can survive with virtually no natural light.
Pro Tip: There are many varieties of Snake Plants, but the yellow variegated type (Laurentii variety) is the strongest in terms of air-purifying powers.
The Cast Iron Plant
The Cast Iron Plant, or aspidistra, isn't called "cast iron" for just any reason. This impossible-to-kill plant can handle the worst cases of neglect, and funnily enough, thrives in dark, drafty areas. It won't mind any of the traditional office issues when it comes to plants, from the blasting air conditioning to the low-light conditions.
Pro Tip: Place this leafy beauty in a bathroom with no windows to add an element of jungle vibes to an otherwise boring space!
The Cascading Pothos
The Cascading Pothos, also known as Devil's Ivy and coming in many different variations, is a great low-light trailing plant. With just a bit of water and minimal light, the Pothos is a fast grower that will reward you with new growth all year long.
Pro Tip: This plant is the perfect addition to any extra shelf space in the office. Simply water once a week and let the long tendrils trail around the shelves!
The Dracaena Lisa
Looking for a tall plant for low-light? The Dracaena Lisa is your best bet. Lean, lush, and hardy, this plant is one of the most popular office plants out there.
Pro Tip: This plant is perfect for narrow corners or hallways, as it does not take up too much space.
The Zanzibar Gem
Also known as the "eternity plant" or "zz gem", the Zanzibar Gem comes in many different sizes and needs next to no light to survive. Perfect for desktops or as a floor plant, the Zanzibar Gem is an excellent choice for offices with little to no sunlight.
Pro Tip: The Zanzibar Gem stores water in its roots, which means it rarely needs a drink. Make sure not to overwater!
The Silver Evergreen
Large, variegated leaves with light and dark green tones are what make the Silver Evergreen a unique and popular plants for low-light offices.
Pro Tip: Need a splash of color? Try pairing the Silver Evergreen with a coral colored pot for an instant brightening effect in your office!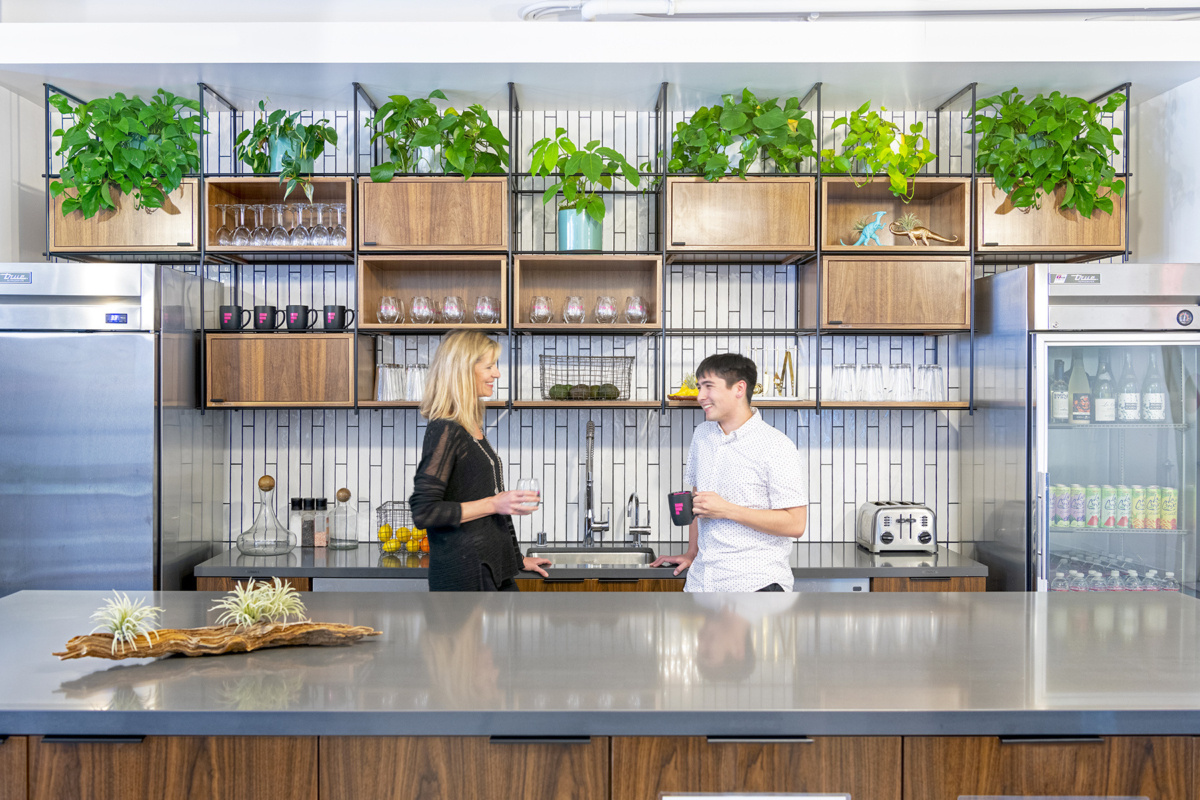 INDOOR PLANTS, potted & DELIVERED
Green up your office with curated plant selections and stylish ceramics. Simply order online and we'll deliver.